I hope you've had a chance to sign up to my newsletter, because I have exclusive bonuses, news on upcoming releases, and more for my subscribers. It's my way of saying thank you for being a part of this group, and for us to have some fun together along the way. ?
If you've already signed up to my mailing at raiaren.com/subscribe or via the #instaFreebie link in my previous post you will have received your FREE copy of my archaeology adventure novella Lost City of Gold and the prequel short story Secrets Begin (the order in which you receive them depends on which way you signed up, everyone gets all the things!). All other exclusives will be automagically 😉 on their way to you as well, over time, no need to take any further action.
However, if you haven't signed up yet, I wanted to let you know about my latest exclusive, just for those on my mailing list. It's bonus scenes from The Secret of the Sands Trilogy, and it includes author notes to give you further insight into these events. I thought that fans of the trilogy would enjoy some of the finished scenes that would enhance the overall story.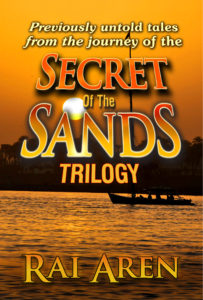 Spending time with these characters again, being a part of their journey, is something I absolutely love. I hope you do, too!
Happy reading always!
Rai Aren