Hi mystery fans!
I'm really happy to share this new InstaFreebie giveaway with you. I know that e-readers can never be too full (mine sure can't!) ? There are some really cool reads here – absolutely free!! ? This promo runs from May 1st to 7th.
Here's the description and the link:
From psychics to psychos, from cozies to corpses, the 'Book 'Em, Mystery Fans' giveaway has it covered! Get one, get 'em all! And enjoy! Here's the link:
http://deathbytyping.com/sixteen-killer-giveaways-seven-days-to-grab-them/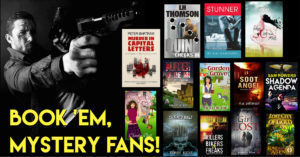 Happy reading always!
Rai