Hi there,
If you haven't already signed up to my newsletter, I hope you will now. I will be giving away exclusive bonuses for those who choose to be on my list. Here is one that I'm really proud to share with you. It's very special to me and it's something I had wanted to do for a very long time.
It's an exclusive FREE short story in the Secret of the Sands universe. If you've already read The Secret of the Sands Trilogy, it will be a fun bonus for you. If you've been curious about it, it will give you a taste of what the trilogy is about. If you've never heard of it, it will introduce you to it. I had a wonderful time writing it. These characters and their journey mean a lot to me.
Here is the description of this free bonus short story:
SECRETS BEGIN…
A prequel story to The Secret of the Sands Trilogy
The Secret of the Sands Trilogy is an epic archaeology adventure that journeys through some of the most magnificent ancient places on earth. From the Great Sphinx to the Great Pyramid to Petra, the story weaves between the distant past and modern day, to uncover incredible secrets and fascinating mysteries about a long lost civilization. As seen through the surprising discoveries of two young archaeologists, it's an adventure tale in the spirit of Indiana Jones & The Mummy.
Now read about the events that triggered this awe-inspiring, but very dangerous journey speeding towards an unforgettable revelation. This is where the secrets begin…
This 7500-word short story is a teaser introduction to The Secret of the Sands Trilogy.
Just click on this link to get your free copy via Instafreebie, simply sign up, choose your format and away you go!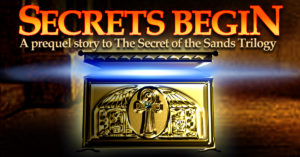 I will have more fun surprises for my newsletter subscribers, so come on board! I'd love to have you there 🙂
Happy reading always…
Rai Aren