Hi fellow book-lovers,
I'm really pleased to be a part of a unique book promotion where you can get to know a whole bunch of quality authors, who have put together some fantastic special offers for you. These include free works and discounts. The genres should be right up your alley – they are crime, mystery, thriller, and suspense. Load up that e-reader and have tons to read this weekend and beyond! ?
This is a super nice promotion – a lot of work went into making it very informative and easy to navigate for you, so you can select books that really appeal to you. Easy breezy!
The offers are good until Friday May 12th, so do hurry on over and check them out! Just click on the link below to get started.
http://www.authorstoreaders.com/cmts.html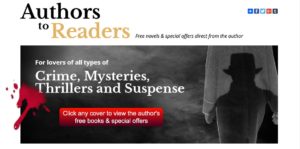 Happy reading always!
Rai Aren