Hey there avid readers,
I love to read, and one of my favorite things to do when reading is escape out of the everyday ordinary. I like to forget real life for a time and go on an adventure to a faraway place that's nothing like my day-to-day life. That's when I can really relax and my mind can have a whole lot of fun, exploring some mysterious and unusual place where the rules don't apply.
Here a cool selection of #instaFreebie ebooks – 21 of them! – in the sci-fi and adventure realms. You can select as many as you like or grab them all ?
New, incredible journeys await you in the pages of these books. Just click on the link below to get started…
http://www.stancsmith.com/scifibooks3.html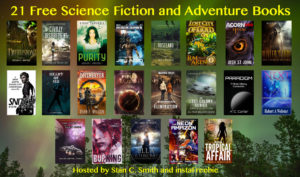 Cheers,
Rai Aren