Hello there,
I've connected with many of you through Instafreebie, so I wanted to let you know about a cool new promo happening there. It's got books across multiple genres – over 70 in total, absolutely FREE!! – which makes it a super fun discovery for you avid readers out there. There's even a contest! 😀
Check out some interesting new reads just in time for the holidays, simply click on the link below to get started:
http://jlhendricksauthor.com/2016/12/06/potpourri-crazy-instafreebie/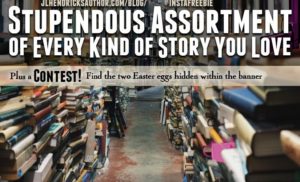 Happy reading book-lovers!
Rai