Good day book-lovers!
If you're like me and enjoy devouring books, check out this cool website – it's called The Prolific Reader. Fellow author Melanie Tomlin has set up a super handy site, filled with FREE books. Unlike many of the free book promotions that you see, this is a site where the books are permanently listed as free on #instaFreebie. No time limits. You never have to worry about missing out on one of these books!
It's a great way to discover new authors and the site is very easy to browse, as the books are organized by genre. Check out your favorite genres and maybe even branch out into ones you've been curious about and wanting to try. Choose as many books as you like! All risk free 🙂
Here's the link to the website:
https://melanietomlin.com/tpr-freebies/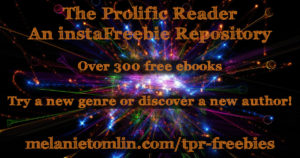 Check back often as new books are being added all the time. ?
If you're active on social media, you can also connect with author Melanie Tomlin in the following places:
Twitter: @MelanieTomlin
Facebook: @AuthorMelanieTomlin
Instagram: @melanietomlinauthor
Enjoy & happy reading always!
Rai Aren